Babylon I'm Leavin'
posted last month by akwerius
Akwerius meets 7th Haus production on this remix single release off the upcoming HOMELESS MIGRATION mixtape scheduled for August 2018, featuring Akwerius, Don Scott, Mars Jupiter, Nga Han, Nasambu, Finbar, Lady Cap, Heirloom Seeds, Circadian Riddims and more.
---
Nga Han - David Stone
posted 2 months ago by Afro Roots Hop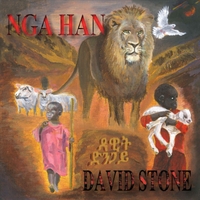 The real down tempo & heartical roots reggae is here & coming from Nga Han. The album is called David Stone and was produced by Natty Roots of Puerto Rico. Very reminiscent of that Virgin Islands sound, and Tippy I recorded the drums on that island. There's a guest appearance from Addis Pablo, who appears on both great dubs, one being the dub of 'Behold' & the other the dub of 'Play Your Part.' The album starts with the one that struck me strongest 'Holy Key.' As Rastas in the system we are 'Unmoved' by what babylon does, just aware and move on. The album closes with the appropriate 'Psalm 45' and is released under the Roots Natty label.
---
JAH-N-I/Bantu Nation - To Di East
posted 4 months ago by Circadian Riddims
To Di East Riddim MegaMix by Wadadah II of Black Sabbath Sound. Tracklist: 01. Warrior King – Many Mansions Feat. Jahriffe 02. Kazayah – The Mission 03. King MAS – Can't Draw We Out 04. Jahriffe – God Body 05. Ras I-Dre – Sweet Reggae More Info: Nearly a century ago, in the year 1920, the honorable Marcus Mosiah Garvey prophesied: "Look to the East for the crowning of a Black King, he is the Redeemer for the days of deliverance are near." In the spirit of the great ancestor, an army of Roots Reggae soldiers have organized and centralized in a musical tribute to our forefathers (and mothers) who have paved the way for Rastafari culture and Afrikan liberation theology as I & I carry the torch into the new millennium. "To Di East". Released by: Jah-N-I Roots Band Movement & Bantu Nation Movement Release date: 6 April 2018
Preview
---
The Wellness Guide
posted last year by Word.Sound.Life.
The Wellness Guide album presented by Freedom Hour Radio and hosted by KWE is an audio companion to the eBook on the four dimensions of wellness (mental, physical, social, spiritual) and featuring artists of the MIHU Project, as well as scholars, teachers, healers, athletes, musicians, farmers, college students and youth sharing their views on wellness through reflection, interview, poetry, conversation and music.
Preview
---